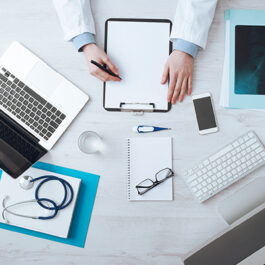 Confidentiality
Information, Access and Privacy
Your Privacy is protected.
The Plantagenet FHT has taken multiple steps to protect your personal information from theft, loss and unauthorized access, copying, modification, use, disclosure and disposal.
Regular audits are conducted to monitor and manage privacy compliance.
The Collection of Personal Health Information
Protecting patient privacy is not only the law, but it is an essential part of the Plantagenet Family Health Team's commitment to treating our patients with dignity, compassion and social responsibility. Protecting your personal health information is about quality of care and treating others the way we would want to be treated.
Your personal health information is collected directly from you or from the person acting on your behalf. The personal health information that is collected may include, your name, date of birth, address, health history. Occasionally, your personal health information is collected from other sources if your consent has been obtained to do so or if the law permits.
Uses and Disclosures of Personal Health Information
The Plantagenet Family Health Team may use and disclose your personal health information to:
Treat and care for you
Conduct risk management health related activities
Compile statistics
Comply with legal and regulatory requirements
Plan, administer and manage internal operations
Conduct quality improvement activities (such as sending patient satisfaction surveys)
Fulfill other purposes permitted or required by law
Facilitate the adoption of regional and provincial electronic health records. As these systems are put into place to improve safety and quality of care, your personal health information will be stored and shared securely on health information databases accessible only by authorized health care providers.
Patient Delegation of Privacy
Effective Immediately,
The Plantagenet Family Health Team has grown over the past years with new patients and staff. It is not possible any longer to know all the patients and what their privacy needs are.
It has been a common practice for many years, that a spouse or partner will make arrangements for medical appointments or inquires if a test results have arrived in the office. This has been done on a verbal – trust relationship.
After reviewing the privacy practice, it has been necessary to change this practice.
As of now, in order for us to discuss information about your health with another party (eg. spouse, caregiver, family member), written consent must be provided.We also require authorization to disclose or transfer medical records.
Parents and guardians of children under the age of 16 years do not need to complete this process unless there are special circumstances such as:
A court order pertaining to custody.
The children do not have the same surname as the parent or guardian and it would be difficult to determine the relationship.
For the purpose of privacy, children 16 years and older are treated as adults and have the right of complete privacy. If they wish to include their parents or guardian, they will need to complete the Privacy Policy:
Staff will only communicate directly with patients.
It is impossible to communicate with parents or guardians of children 16 years and older if there is no written consent on file.
If written consent is on file, it is possible to communicate with the delegate.
Authorizing changes:
You may complete the Privacy Authorization Change form that is on the Plantagenet Family Health Team web site and forward it to the office. This form is for a single delegate.
Your Privacy Rights
You may access and correct your personal health records, or withdraw your consent for some of the above uses and disclosure by contacting the office (subject to legal exceptions, such as where disclosures are required by law).
For more information or to raise a concern about our practices, contact:
Privacy and Access to Information Officer
Plantagenet Family Health Team
179 Old Highway 17 PO Box 305
Plantagenet ON K0B 1L0
Tel.: 613-673-4318, ext. 223
You have the right to report to the Information and Privacy Commissioner of Ontario if you think your rights have been violated by contacting:
Information and Privacy Commissioner of Ontario
2 Bloor St. East, Suite 1400
Toronto, Ontario M4W 1A8
Email: info@ipc.on.ca
Tel.: 416-326-3333
Toll free: 1-800-387-0073