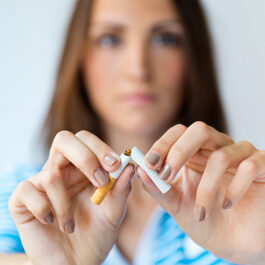 Smoking Cessation program
You must be rostered to a primary care physician of the Plantagenet Family Health Team to access our Smoking Cessation program.
Quitting smoking is the single most beneficial thing someone can do to improve their health.
1 in 4 (25%) of our patients from ages 30 to 75 are smokers
Patients can receive FREE Nicotine Replacement Therapy by meeting with the trained Health Promoter. Many patients meet the counsellor to simply investigate their options and determine when they might be ready to quit. Others want help to reduce their cigarette consumption. Some wish to stop smoking completely. The program consists of individual counselling sessions to understand the nicotine addiction, ongoing assessment of your smoking status, support with developing a comprehensive personal quit plan when you are ready and ongoing support once you quit, preventing relapse.
You can refer yourself for this service. Please call the Health Promoter to set up an appointment at 613-673-4318, ext. 231 or ask your doctor or nurse practitioner.
For more information, please visit the following resources:
STOP Program
https://www.nicotinedependenceclinic.com/en/stop/stop-on-the-net
Ottawa Model Smoking Cessation
http://ottawamodel.ottawaheart.ca
Smokers Help Line