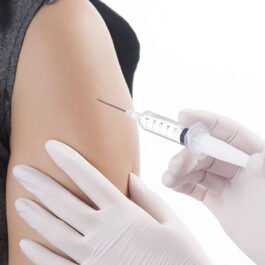 Influenza (Flu) Vaccine
Influenza is a viral infection that affects mainly the nose, throat, bronchi and, occasionally, lungs. Infection usually lasts for about a week, and is characterized by sudden onset of high fever, aching muscles, headache and severe malaise, non-productive cough, sore throat and runny nose.
Influenza tends to spread rapidly by contact. Most infected people recover within one to two weeks without requiring medical treatment. However, in the very young, the elderly, and those with other medical conditions, infection can lead to important complications of the underlying condition, pneumonia and death.
You are at higher risk of developing complications from the flu if you are and adult or child with a chronic health condition, are a resident of a nursing home or are 65 and older.
Pregnant women, healthy children ages 6-23 months, child care providers and persons who are in contact with high risk patients should also ensure to get the flu shot.
Flu Prevention Tips from the CDC (Centres for Disease Control)
Cover your nose and mouth with a tissue when you cough or sneeze. Throw the tissue in the trash after you use it.
Wash your hands often with soap and water. If soap and water are not available, use an alcohol-based hand rub.
Avoid touching your eyes, nose and mouth. Germs spread this way.
Try to avoid close contact with sick people.
If you are sick with flu-like illness, CDC recommends that you stay home for at least 24 hours after your fever is gone except to get medical care or for other necessities. (Your fever should be gone without the use of a fever-reducing medicine.)
While sick, limit contact with others as much as possible to keep from infecting them.
For more information, please visit the following resources:
Public Health Agency of Canada
•http://www.phac-aspc.gc.ca/im/index-eng.php
Ministry of Health and Long Term Care
•http://www.health.gov.on.ca/en/public/programs/immunization…
World Health Organization