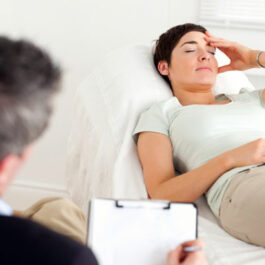 Mental Health

Free provincial program now available to help manage depression and anxiety
If you're experiencing low mood, depression, and anxiety, a new provincial program is now available to help. The program is managed by the Canadian Mental Health Association (CMHA) Ontario and CMHA York and South Simcoe.
BounceBack®: Reclaim your health is a free skill-building program designed to help adults and youth aged 15+ manage symptoms of depression and anxiety, combat unhelpful thinking, and become more active and assertive. The program offers two forms of help:
1. Telephone coaching and workbooks: BounceBack is a guided self-help program in which a coach supports you in working through a series of workbooks. The program involves three to six telephone coaching sessions, which you can do from the comfort of your home. Workbooks and coaching are available in multiple languages.
2. Online videos: BounceBack Today videos offer practical tips on managing mood, sleeping better, building confidence, increasing activity, problem solving, and healthy living. The videos are available in English, French, Mandarin, Cantonese, Punjabi, Arabic, and Farsi.
A referral is required to participate in the BounceBack telephone coaching program. Your family doctor or nurse practitioner can provide you with a referral. Alternatively, you can self-refer.
To learn more about the program and access the referral form, visit: bouncebackontario.ca.
---
You must be rostered to a primary care physician of the Plantagenet Family Health Team to access our Mental Health program.
Bereaved Families of Ontario
http://www.bereavedfamilies.net
Compasionnalte Friends of Canada
Distress Centre
MindYourMind
Organization for Bipolar Affective Disorder (OBAD)
Pregnancy and Infant Loss Network
Schizophrenia Society of Canada
Trellis: mental health and developmental services
Gamblers Anonymous
http://www.gamblersanonymous.org
Narcotics Anonymous
Canadian Mental Health Association
Anxiety Resources
www.anxietydisordersontario.ca
Seasonal affective disorder
http://www.cmha.ca/mental-health
Hôpital Général de Hawkesbury and District General Hospital Inc