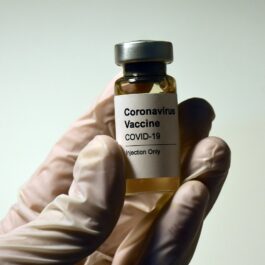 Vaccine updates – January 2021
Dear members of the community,
The pandemic has brought us challenges. We would like to say thank you for your dedication to control its spread.
We now have the opportunity to be able to protect vulnerable people and our families by taking the Covid-19 vaccine. We know you have many questions about the vaccines and we understand you may be concerned about them. It is important to be careful about where you get the information you use to help with your decision and for you to know that your health and well-being are our priority. Our team is closely following the emerging science behind the vaccines.
So far, here's what we know and what you need to know:
Our leading scientists have approved the use of two vaccines for use in Canada. Health Canada, the organization responsible for ensuring that vaccines and other products are safe and effective before they are marketed to Canadians, has a robust, world-class review system.
The vaccines have already been given to several million people around the world. The vaccine is an engineered synthetic protein that looks like the coronavirus protein to make your immune system produce antibodies against COVID-19. The vaccine does not contain the COVID virus and does not enter your cells like the disease does.
The Covid-19 vaccines are safe. The vaccines approved so far appears to be very safe when compared to other vaccines approved for use in Canada. More than 70,000 people took part in the trials of the already-approved Pfizer and Moderna vaccines. The mRNA technology on which these vaccines are built began in the early 1990s. Canada continues to monitor the data as more and more people around the world are vaccinated.
The Ottawa Public Health website reports the following side effects:
Pain at the injection site
Chills
Fatigue and;
fever
Some of the doctors at your clinic have received their first dose of the vaccine and some had only mild pain in their arms. Their second dose is scheduled for the next few weeks.
Vaccines work. An efficacy level of 95% has been observed with the Pfizer-BioNTech vaccine. You will be fully immunized seven (7) days after your second dose of the vaccine.
Vaccines will be available to most Canadians over the next few months, possibly in the spring. We are not responsible for uptime, but please understand that the plan is to start with those patients who are most at risk of becoming seriously ill from COVID-19.  This group includes healthcare workers and long-term care residents and people living is residential centres.
When we have at least 70% of the population vaccinated, we can finally breathe a little more easily. However, until then, social distancing measures, mask wearing, and hand washing will remain in place until a significant decrease in the virus is observed in the community.
At this time, pregnant and breastfeeding women should not receive the vaccine. If you have severe vaccine allergies or significant immune disease, talk to your healthcare professional before making your decision.  For now, there is no approved vaccine for children under 16 years of age.
We encourage you to take the COVID-19 vaccine to protect us all. Remain vigilant. Don't give up!. We saw a headline of an electronic article that read: Healthcare professionals have a common symptom of COVID vaccine. Curious, we clicked on the article. The symptom was: HOPE!
We will share what we know, and we will be sure to communicate with you any other relevant information.
You can read more about the vaccine here: https://covid-19.ontario.ca/covid-19-vaccines-ontario and https://www.canada.ca/en/health-canada/services/drugs-health-products/covid19-industry/drugs-vaccines-treatments/vaccines/pfizer-biontech.html.
If you have any concerns at all about the vaccine, please reach out to us.
Sincerely,